Being deaf in some places means being locked up and neglected. Sanjeeda Choudhury, an 18 year old from East Ham, England set out on a mission to make sure deaf people in Kenya don't suffer through such pain again.
Choudhury is Deaf, and for the last three months she actively fought for the rights of deaf people in Nandi, a poor area in Kenya. According to Choudhury, deaf people in Nandi lead a rough life. They are subject to negligence, often locked up in their homes because their families believe deafness is a curse.
Life for deaf people in rural Nandi is quite hard-Nandi County is located some 500 kilometers from Nairobi, the capital city of Kenya. Poverty is rampant, so is prejudice. The deaf have to put up with little or no help from the community or the government and there is no education for them.
The deaf in the rural village have no way of communicating with the rest of the world because there has been no one to teach them sign language. For the past three months, however, life has been brighter for the community in Nandi County.
Choudhury and several volunteers actively taught sign language to Nandi's deaf members. Through a unique initiative by the UK Government, the International Development Organization (VSO) and DeafWay, Choudhury has changed the lives of dozens of deaf people in Nandi County and touched everyone else in the community.
Through the project, Choudhury created awareness of the deaf culture and shone a much needed light on their plight. For the first time, members of the Nandi community realize being deaf is not anyone's fault and is not a curse placed on them for any crime the village committed.
Choudhury's best day on the job was after teaching sign language to students in a local community school- while she was going home, people in the streets came to her and expressed their desire to learn sign language. It was then that she knew all of her efforts were paying off.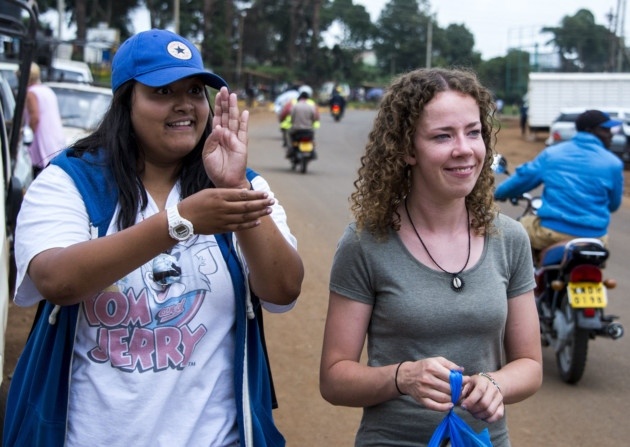 Apart from teaching the community sign language and increasing awareness about the needs of deaf people, the former Plashet School student also spearheaded a project to construct a playground for the local deaf school in Nandi County. Choudhury organized a campaign for awareness that brought deaf children and young people in Nandi County together at the center of the largest town. The two groups worked hand in hand to voice the needs and rights of people all over and fight to end the prejudice against the deaf.